Programmer
Responsibilities:
   • Design Database System and develop Web Application
   • Creative, and be able to work in a high pressure environment and under tight deadlines
Requirements:
   • Male or Female, Thai nationality, age between 22-30 years old.
   • Bachelor's Degree in Computer Science or related field.
   • Knowledge in database using Mysql, Microsoft SQL Server
   • Knowledge in programming using PHP, HTML, JavaScript/jQuery
Data Analyst
Responsibilities:
• Manipulating and collecting data.
• Interpreting data and analyzing results using statistical techniques.
• Developing and implementing reporting frameworks, data analyses, data collection systems and other strategies that optimize statistical efficiency and quality.
• Perform other duties as assigned.
• Creative, and be able to work in a high pressure environment and under tight deadlines
Requirements:
• Thai nationality, Male or Female age between 22-30 years old.
• Bachelor's degree or higher in Mathematics, Statistics, Economics or in a related field.
• Strong Data analysis, data verification and problem solving abilities.
• Advanced Knowledge with Access, Excel, Power Point.
• Technical skill in SPSS, Stata, R Programming, SAS or other statistical program.
• Ability to work collaboratively and team-work attitude
• Understanding of data analytics and of research techniques.
Please send your application including detailed resume, recent photo and your salary expectation to the address below;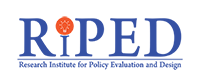 Research Institute for Policy Evaluation and Design (RIPED)
University of the Thai Chamber of Commerce
126/1 Building 21, 7th Floor,Vibhavadi Rangsit Road,
Dindang, Bangkok 10400 Thailand
PHONE: +66 (0)2-697-6644
FAX: +66 (0)2-692-3168
Email: admin@riped.org